Retail Business in Georgia, Armenia and Kazakhstan
The countries in central Asia are very important and valuable in the retail industry. They are small but with many opportunities for investments. Georgia, Armenia, and Kazakhstan are the small gems and their unsaturated retail environments are attractive opportunities for international market.
Georgia: attractive market for retailers
Georgia with 4,8 million population and 8,4 billion dollars of total retail sales are one of the country in central Asia that had an increasment in retail market in these years.
Georgia has a solid per capita spending growth over the past five years, and an underpenetrated retail market.
Georgia remains attractive for retailers across all categories. Despite growth and expansion in food retail, modern formats still represent only 30 percent of the market, with most key players considering traditional market their strongest competitors. Carrefour and local Goodwill remain the only hypermarket players, while the minimarket playing field is a bit more competitive.
SPAR (food retailer) entered the Georgia market in the summer of 2014 by acquiring Populi, the third-largest retail chain, with plans to rebrand and expand its network from 51 to 80 stores by 2018. Local food retailer Nikora reinforced its leading position by acquiring a small regional chain of 12 supermarkets in December 2014.
The growing tourism sector has boosted the fast food segment. McDonald's, Subway, and Wendy's are among the international brands that have expanded in the capital, Tbilisi, where 80 percent of the country's modern retail space is located.
KFC opened its first restaurant in December 2014, and two months later Dunkin Donuts opened its first two restaurants, with plans for up to 35 total by 2017.
Georgia's burgeoning clothes sector is now represented by more than 40 international brands, including Marks & Spencer, Gap, Banana Republic, ALDO, and the Inditex Group's brands.
Despite many positive developments in recent years, the availability of modern retail space still poses a challenge, with many spaces outdated. Shopping center space has grown by 30 percent since 2013. EastPoint Shopping & Entertainment Center in Tbilisi opened in last year as the second-largest shopping mall in Georgia, trailing only the three-year-old Tbilisi Mall.
Armenia: opportunity to grow
Armenia descends four spots to 10th in 2014 because of its regional instability and internal political turbulence. Still, the unsaturated retail market is shifting rapidly to modern formats.
In Yerevan, the country's capital and home to about 80 percent of the country's sales, shoppers spend almost $100 million monthly on consumer goods, primarily food. Home improvement, clothing, and furniture are the top non-food categories.
The Yerevan Mall opened in February 2014; its major tenants include Inditex Group brands and a Carrefour hypermarket, which is finally making its entry into Armenia after working to do so for several years. This development is a solid sign of improvement for this market, whose high levels of corruption and local monopolism have previously hampered the entry of international players.
Well-known Western franchises, particularly restaurants, are on demand in Armenia and the sector is showing signs of growth. Although the only current U.S. food franchises in Armenia are Pizza Hut, KFC, Burger King, Tutti Frutti, and Cinnabon, new pizzerias, restaurants, and sandwich bars appear regularly.
High-priced restaurants serving foreign cuisine are also finding success in niche markets. The retail business is also an attractive investment and partnership opportunity for U.S. firms. There are several retail outlets selling U.S brand clothes such as Polo, GAP, etc. In addition two big fitness chains "Gold's Gym" and "Orange" have been operating in Yerevan for several years. Franchise offers from well-known American chains might attract substantial interest, both from customers and local investors.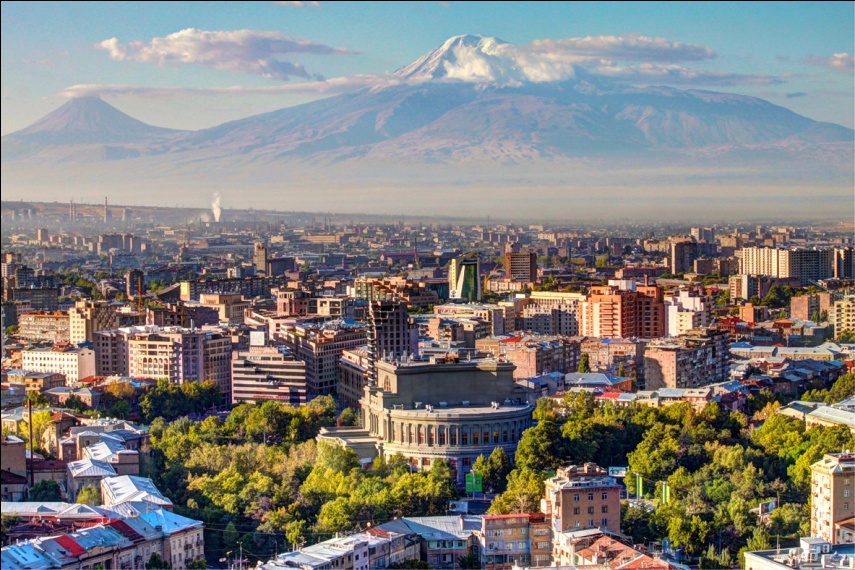 Kazakhstan: still a land of retail opportunities
Retail market in Kazakhstan has remained stable for many years, which makes it more attractive for investments compared to other sectors of the commercial real estate market.
Kazakhstan had a plain year with 4.7 percent growth in GDP per capita.
The background of conceptual fashion brands in Kazakhstan dates back to the beginning of 2000s. Brands Mango and Benetton were one of the first conceptual stores that were operating in Almaty.
Today Inditex directly represents Zara, Pull and Bear, Stradivarius, Bershka, and Massimo Dutti brands in Kazakhstan. These brands demonstrate sales that exceed 8,000 USD per sqm per year.
Kazakhstan's two main cities, Astana and Almaty, are hosts to the country's modern retail. Significant investments into shopping mall development were at the forefront this year in a country that has historically lacked quality retail space for both existing players and potential new entrants, particularly for mid-level and premium brands.
The government has put significant effort in supporting retail development despite currency devaluation, including initiatives for simplified loan approvals, advocacy for retail efficiency, and a push to encourage street market players to join shopping centers and malls, including "shopping street" and "shopping village"-type malls.
Lately, Turkish companies have also demonstrated competitiveness of their mass fashion concepts. In autumn 2011 LC Waikiki opened its first store (1600 sqm) in Almaty in Aport mall. Turkish retailers demonstrated their understanding of the market and its high demand for quality apparel at affordable prices by active development in mass fashion segment.
Three shopping malls opened in 2014 and several other large openings are scheduled by 2017, with an expected additional retail area of 550,000 square meters.
For food retail, there 's a lot of space for new entries, especially for coffee shops. McDonald's entered in 2015 with other international players . Meanwhile, fashion retail experienced moderate growth, with franchise player Alhokair Fashion Retail bringing the New Look brand into Kazakhstan with two stores while also increasing the number of Accessorize, F&F, and SuiteBlanco stores.
Underdeveloped logistics leading to long and unstable delivery times has been a barrier for e-commerce. Government support could help this, but players such as Russian Lamoda are trying to solve it on their own by creating their own logistics solutions. Still, e-commerce has grown in recent years and will likely account for 5 percent of all retail in Kazakhstan by 2016.
Fonte: a cura di Exportiamo, di Morvarid Mahmoodabadi, redazione@exportiamo.it
© RIPRODUZIONE RISERVATA