Luxury tempted Iran is a dream market for retail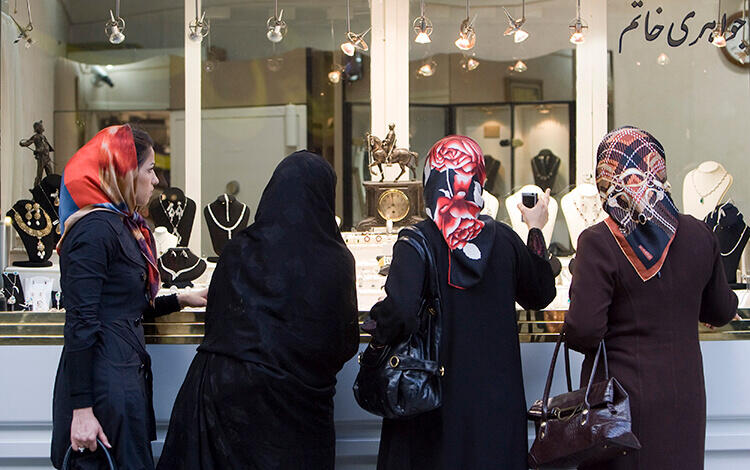 Iran is a country of 80 million people, with a large number of young, educated, hip urbanites. With 73% of the population in urban centers and 60% under 30, it provides a broad and accessible consumer base.
Even more than this, Iran is a middle income country with an average income of $17,000 per head. Iranian consumers exercise more purchasing power than consumers in comparable localities of India, Brazil, Egypt and China.
There is a developed luxury and upper-end market in Iran. As a matter of fact, various European luxury operators have an established presence in the country and the concern for status is palpable among most of the sections of the consumer market. Despite this, the Iranian middle class is large and growing.
Furthermore, the market is beginning to thrive on technology-driven retail. While many stores don't have a virtual presence, the e-commerce sector is prospering, though still small.
With the largest number of smartphone and Internet users in the Middle East, its e-commerce is growing faster than any other country in the region. Using an old Iranian delivery method, shoppers can order online and expect delivery within a few hours by a speedy motorcycle delivery man at the cost of no more than a postage.
Transactions are easily done within the domestic bank card system, but not with international cards that are set to come online in the near future.
How the retail works in Iran
Despite extensive opportunities for hopeful retailers in Iran, there are several crucial unique factors to bear in mind when looking at Iran. Firstly, it is a quickly evolving market in retail, but the traditional approach still dominates distribution and sales.
Unlike other countries in the region and around the world, Iran's traditional market has not turned into a tourist attraction. Instead, the Iranian bazaar is still the beating heart of the economy, politics, society and, of course, shopping, in every city.
While each city has a grand bazaar that is this heart, bigger cities like Tehran, Isfahan, Mashhad and Shiraz have multiple traditional bazaars in various parts of the city that receive most patronage. These are the backbone of distribution networks linking back to the grand bazaar, even for many modern retail establishments.
Many Iranians still prefer to conduct their shopping in the bazaar and independent small retailers, though local convenience stores, boutiques and malls are becoming more common.
Marketing, Finances and Distribution
The marketing, finance and distribution system will remain a hallmark of the Iranian retail market. Being at an early stage of modernization, in its future development it will incorporate some modern western approaches but still keeping and mix these with more traditional retail and distribution arrangements. This means small shops and the bazaar will continue to be important and attract a great consumer base where malls and large shopping centers will not dominate any time soon, despite the steady growth.
One of the obstacles for foreign retailers in Iran has been the financial system
The removal of sanctions and Iran's reconnection to international financial systems, in particular to SWIFT, are removing this problem for all.
Retail property is abundantly available for all market segments. Small shops proliferate and the retail market is fragmented.
Larger shops often have government backing or part ownership, particularly at the municipal level, which again means that due diligence and extensive market research are an absolute must.
Iran is forward-looking but it still has the old-world charm of not being saturated with marketing and advertisement at every turn. Thus, retailers will need to determine a thought-out marketing strategy to reach potential consumers that takes into account cultural sensibilities as much as market realities and regulations.
While Iran is not entirely buttoned up, there are strict rules and cultural norms around advertising, particularly regarding fashion. Most consumers have conservative sensibilities and aggressive western-style marketing campaigns will not raise the same reaction of comparable markets like Brazil or India.
Opportunities for foreign retail
Fast-food companies may be the first to try to establish themselves in Iran. But retailers will run up against local competition with similar branding that have strong government support.
The local retailers have quite strong political connections as well. With a strong middle class emerging in Iran, consumer goods companies and retailers will likely more easily and quickly find favor compared to luxury brands, which will likely be looking at their longer-term prospects there.
Among all the European retailers, Italians are those who sell more brands in several levels, especially luxury goods.
Italian's brands in Iran are the well known ones and have their stores in all the famous malls in Tehran and other big Iranian cities.
Here's a list of the most famous ones:
Andrew's Ties
Benetton
BOGGI Milano
Camicissima
Cerruti I88I
Ermenegildo Zegna
Stefano Ricci
D&G Spring
Roberto Cavalli
Gucci
Even European retailers, though, will face cultural and political challenges that will require sensitivity in sales and marketing. While men in Iran dress in Western-style garb, for example, women in public are required to dress modestly and cover their heads. That means that mannequins or models photos must wear likewise modest clothing.
Western retailers that flout the rules can be shut down if the country's culture commission deems stores or their goods to have a bad influence on Iranian women, and Benetton and other retailers have faced such issues in the past.
Figuring out how to districate in the bureaucracy and take advantage of helpful political connections is a tricky business in any foreign country, even more in one country that hasn't been open to foreign commerce for a while.
Even for the European brands that get the green light, things will take time and there may be many surprises after such a long time without conventional branded retail trade in the country.
It would be smart for international brands with medium quality and less price to enter the market because their prices serve the Iranian majority and they can try to use an appearance that is culturally less challenging.
Fonte: a cura di Exportiamo, di Morvarid Mahmoodabadi, redazione@exportiamo.it
© RIPRODUZIONE RISERVATA
Hai un progetto Export? Compila il Form